Port cargo handling・Warehousing
Port cargo handling・Warehousing
Comprehensive services ranging from
port cargo handling, warehousing, packing,
sieving to delivery
Since the foundation of our company in 1969, we have been consistently handling bulk cargoes of fertilizers and industrial raw materials from port operating through delivery for over half a century.
We support Japanese agriculture by offering a wide range operations for stable supply of raw materials for fertilizers from upstream to downstream with daily contact with overseas suppliers, chartering ocean vessels, arrangement of custom clearance, inventory management, etc..
Comprehensive services ranging from port cargo handling, warehousing, packing, sieving to delivery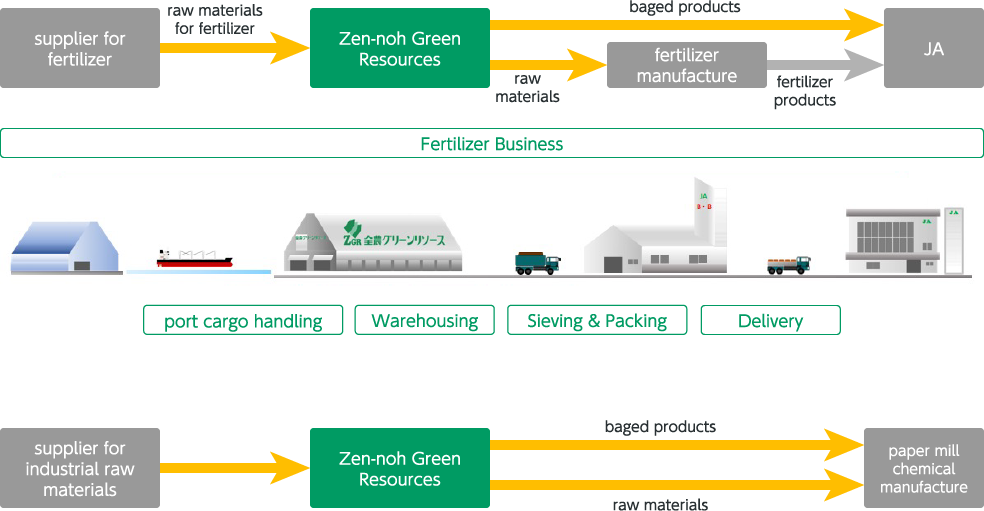 Our strength
1

Rich experience of port cargo handling

2

Storage service depending on customer's needs

3

Sieving service for particle size adjustment, removal of foreign substance,etc.
Business introduction
*Click on each step to open
We provide total services of import and delivery operations for fertilizer raw materials from overseas suppliers to domestic end users.
We contribute to stable supply of the raw materials, based on the long-term relationship with overseas suppliers and through our network with our branch offices and domestic stevedore companies all over Japan.

We have been proud of our efficient and careful cargo handling skills, gained by receiving many large bulk vessels since our foundation.
We are flexible for handling cargoes not only in large vessels but also those in coastal vessels or containers.

We receive and store various forms of cargoes unloaded from vessels and containers in our warehouses.
Through our rich experience, we ensure thorough quality control, such as preventing contamination by foreign matters.

We have sieving machines at all our branches and provide services such as particle size adjustment, removal of foreign substance, etc. at our customers' request.

We offer packing service into flexible container bags at all our branches and also into 20kg bags at Niigata, Kashima and Kinuura branches, responding to our customers' request.
We also import and sell various types of flexible container bags for fertilizers, rice, wheat, etc..

We arrange delivery of the goods to the destinations by safest and most efficient means using trucks, coastal vessels, freight trains, etc.
Contact form
If you have any inquiries about fertilizer,
please contact our Fertilizer Business department.